SugarBear® Sleep gummies are an easy-to-use, scientifically formulated, vegan vitamin complex designed to help you sleep!
Formulated with Melatonin, the berry-flavored chewable gummies also include our proprietary Rest Well Blend consisting of Lemon Balm Leaf, Passion Flower, Valerian Root, and 5-HTP.
SugarBear Sleep are vegan, soy-free, gluten-free, cruelty-free sleep-enhancing* gummy vitamins that you can enjoy!
Stop gulping down large smelly pills and start enjoying sweet, delicious, berry-flavored SugarBear® Sleep gummies!
Made in the U.S.A! Free of artificial sweeteners and flavors. You will taste and feel the difference!
Melatonin - Natural hormone that tells your body when it is time to go to sleep that regulates your sleep cycle.
Magnesium - Aids in the body's production of melatonin and has a natural relaxing effect on the body.
Theanine (L-Theanine) - Commonly found in tea, helps support a calm and relaxed mood. Relaxes.
Vitamin B6 - Helps the body regulate amino acid tryptophan levels which in turn helps the body produce melatonin. Enhances natural melatonin production.
Our Rest Well Blend is a proprietary blend of botanicals and 5-HTP that promote relaxation and is designed to optimize sleep. It includes the following ingredients:

Lemon Balm Leaf - Provides calming effects and used for problems with sleep and restlessness.

Passion Flower - Calms brain activity and may help you relax and sleep better.
Valerian Root - Contains antioxidants that promote sleep and a calm mood.
5- HTP - Helps to support both a positive mood and a state of relaxation.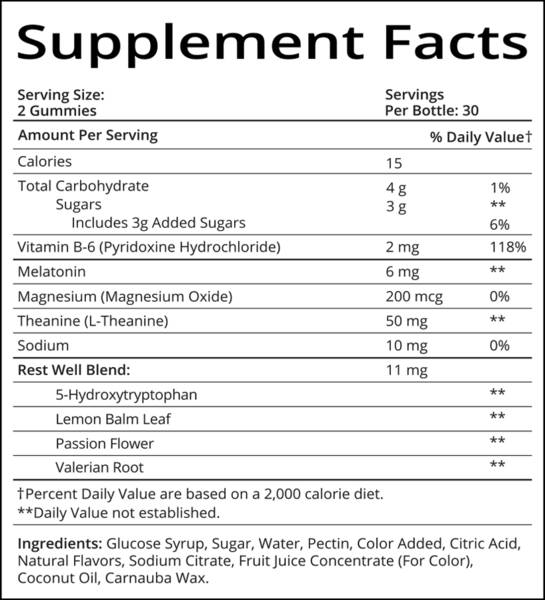 FREQUENTLY ASKED QUESTIONS
Who can enjoy the SugarBear® Sleep gummies?
Anyone age 13 and older! We recommend anyone under age 18 receive their guardian's or healthcare provider's permission.

Are SugarBear® Sleep gummies Vegan, Halal or Kosher?
Yes! The SugarBear® Sleep gummies are 100% Vegan, certified Halal and certified Kosher.
Can I eat the SugarBear® Sleep gummies, SugarBearHair® vitamins and Women's Multi vitamins together?  
Yes! Always consult your physician if you have a severe medical condition.
With your order, you will receive one bottle of SugarBear® Sleep gummies. There are 60 gummies per bottle. We recommend 2 gummy bears a day.
The vitamins may cause drowsiness. Do not drive, operate machinery, or consume alcohol while using. Recommended for ages 13 and older. Ages under 13 must get doctor's permission.
*DISCLAIMER: These statements have not been evaluated by the Food and Drug Administration. This product is not intended to diagnose, treat, cure or prevent any disease. The views and nutritional advice expressed by SugarBearHair are not intended to be a substitute for conventional medical service. If you have a severe medical condition, see your physician of choice. Individual results may vary.
މިއީ ބައްޔެއް ދެނެގަތުމާއި ބައްޔަކަށް ފަރުވާއެއް ކުރުމަށް ނުވަތަ ބައްޔަކުން ރައްކާތެރި ވުމުގެ ގޮތުންް ބޭނުންކުރުމަށް އުފައްދާފައިވާ އެއްޗެއް ނޫނެވެ. ބައްޔަކަށް ފަރުވާ ކުރަމުން ދާނަމަ މި ސަޕްލިމެންޓް ބޭނުންް ކުރުމުގެކުރިން ޑޮކްޓަރެއްގެލަފާ ހޯދަން ވާނެއެވެ. ފުޑް ސަޕްލިމެންޓަކީ މިންހެޔޮކާނާގެބަދަލުގައި ބޭނުންް ކުރެވޭނެއެއްޗެއްްނޫނެވެ