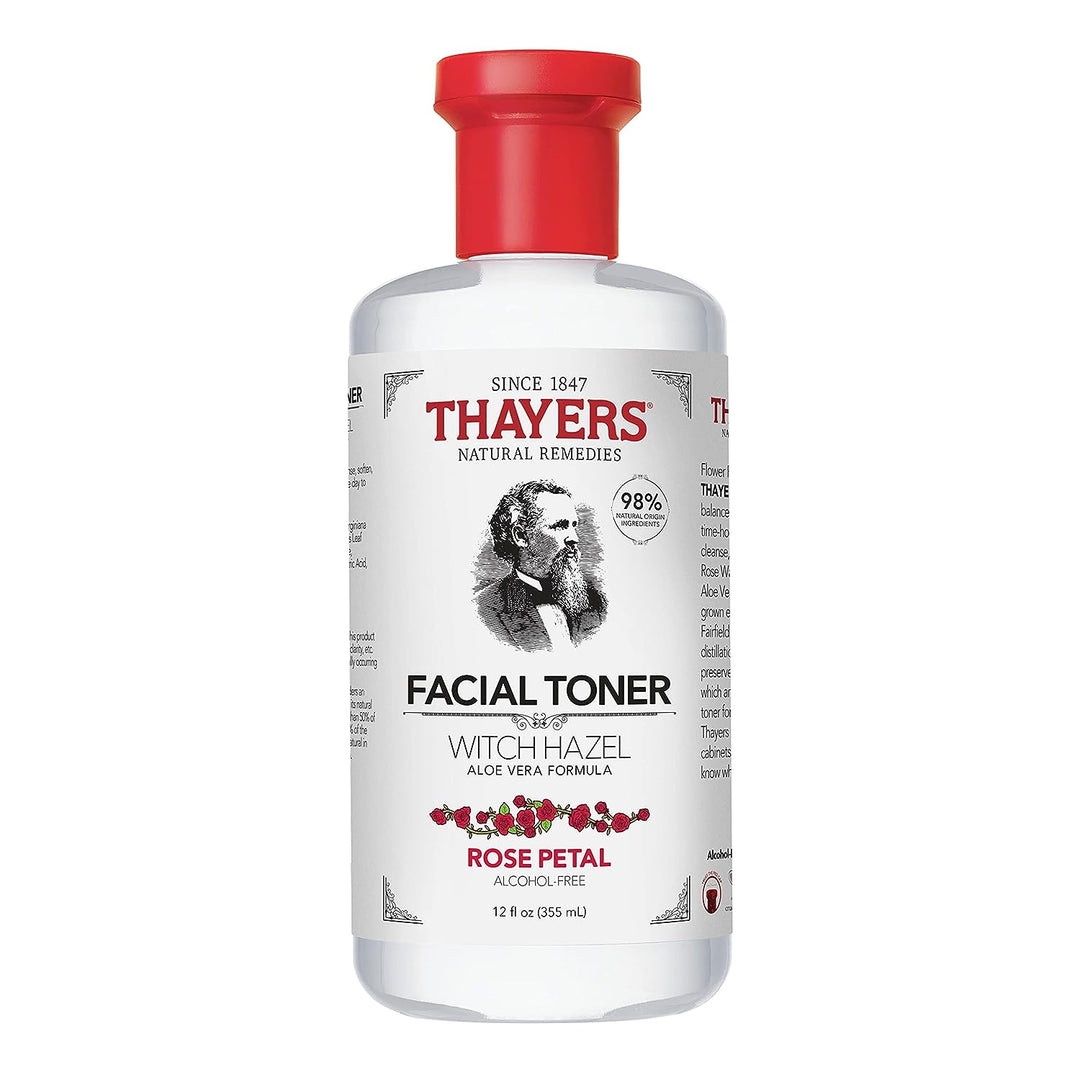 IMPROVING THE QUALITY OF YOUR SKIN
NATURAL & EFFECTIVE
Flower Power.  THAYERS Rose Petal Facial Toner visibly improves the quality of skin, revealing glowy, moisturized skin that looks and feels healthier.  Our alcohol-free, gentle, non-drying toner acts like a remedy to hydrate skin all day, helping skin feel purified,  balanced and renewed.  Skin texture is visibly smoother, pores appear smaller, and skin tone looks more even.  Founded by Dr. Henry Thayer, Thayers Natural Remedies' time-honored formula is made with Rose Water and our unique, proprietary blend of Aloe Vera and non-distilled Witch Hazel, grown exclusively for Thayers on a family farm in Fairfield County, Connecticut.  Our method of extracting Witch Hazel avoids distillation and does not require the use of alcohol, ensuring that our Witch Hazel is alcohol-free.  Tried and true, Thayers Natural Remedies has been a fixture in medicine cabinets for generations – once you use them you'll know why.

88% of those who tried Thayers Facial Toner are satisfied**
TRIED & TRUE
Clean: Alcohol-free, phthalate-free, paraben-free, gluten-free
Dermatologist tested and deemed safe for sensitive skin
Cruelty-Free: Never tested on animals
Vegan Formula: No animal derived ingredients
Locally grown: Witch hazel locally grown in Connecticut
Made in USA of US and/or Imported Ingredients
Clinically tested results:
Provides 8-hour (all day) hydration*
Maintains skin's moisture barrier*
Non-comedogenic
Gentle, non-drying**
After one use,
Skin feels renewed**
Skin feels nourished**
Skin feels soothed, balanced**
After one week of use,
Skin texture looks smoother**
Skin tone appears even**
Pores look reduced**
Skin does not feel stripped/tight
* Results based on instrumental test. ** Results based on consumer test.
NATURAL ORIGINS
Made with 98% Natural Origin Ingredients

What are natural origin ingredients? Thayers only considers an ingredient to be of natural origin if it is unchanged from its natural state or has undergone processing, but retains greater than 50% of its molecular structure from its original natural source. 2% of the ingredients in Thayers Rose Petal Facial Toner are not natural in origin in order to ensure its sensoriality and preservation.
HOW TO USE
After cleansing and before moisturizing, apply with a cotton pad on face to cleanse, balance, soften, and moisturize skin for 8 hours.
Use anytime throughout the day to leave skin feeling refreshed, renewed and healthier.